The other day my friend Jake tweeted about the Disney Channel Original Movie Brink! and it got me thinking about how badly I miss those Disney Channel Original Movies. I remember excitedly awaiting the arrival of each month's new movie and then rushing to school the next day to discuss it with all of my friends. I know there has been a lot of 90′s nostalgia floating about the internet these days and I think that Disney Channel Original Movies are just further proof that us 90′s kids are the coolest kids. But  for  reals  though.  
Because I am never one to say no to good ol' nostalgia, here is my personal list of the ten greatest Disney Channel Original Movies.
The Greatest Disney Channel Original Movies
10. Luck of the Irish (2001)
The 140 Character Synopsis: Boy has lucky gold coin. Boy loses coin. Boy turns in to leprechaun. Boy unites with grandpa to save the coin and his family.
Mostly the only thing I remember from this movie is the pointy ears. But that's kind of all I need to remember. I was weirdly envious of those pointy ears. Actually, I still am. Oh and I'm pretty sure this movie was able to fit every single Irish stereotype ever in it's 90 minutes.
9. Mom's Got a Date with a Vampire (2000)
The Twitter Synopsis: Kids set mom up on a hot date. Hot date is a cold vampire. Cold vampire tries to drink mom's blood. Kids must save mom.
See, I remember the days before Twilight. Back when the words "mom's got a date with a vampire" were the kind of words that struck fear in to your very heart, rather than overwhelming, sparkly joy. This was right when Aunt Hilda was still in her prime and it was a million levels of stressful watching her cavort about town with a vampire.
8. Cadet Kelly (2002)
The Twitter Synopsis: Lizzie McGuire is sent to military school. She and Ren Stevens put aside their differences to compete in the state drill competition.
I'm still kind of sad I never learned the drill sequence at the end. I just love how impressed everyone is. I want everyone to be that impressed by me. Also, I really miss Lizzie McGuire and Even Stevens.
7. Zenon: Girl of the 21st Century (1999)
The Twitter Synopsis: Zedis Lapedis! Zenon is totes in trouble with the rents and has been grounded from her space station to planet earth! Fitting in supes hard.
I feel like I am definitely not alone in saying that Zenon: Girl of the 21st Century made me all kinds of excited for the approaching millenium. I wanted her entire wardrobe so badly. Also, this song. Also, I'm pretty sure Zenon is holding an iPad at the beginning of that video. First comes iPad then comes wardrobe right??? Oh, I hope so.
6. Smart House (1999)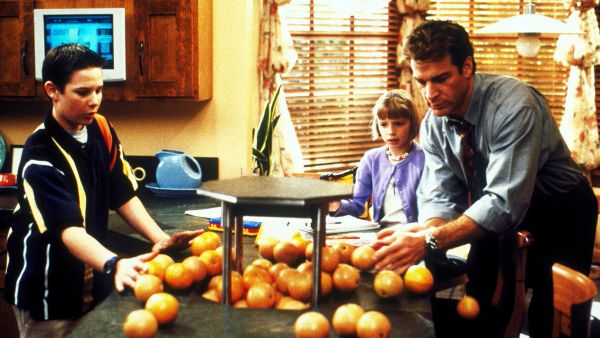 The Twitter Synopsis: Family wins a computerized house. House goes cray. The result = best anti-robot propaganda film of all time (well maybe besides Terminator).
This movie is probably the reason that my legitimate number one fear is The Singularity. Robots scare me to no end. This robot house took my fear to a whole other level. But that didn't stop me from wanting those sweet self-vacuuming floors, or the kitchen that made all of your meals for you, or the kind of house that threw awesome parties. Also, I still know all of the words to "Slam Dunk (Da Funk)." Whaddup.
5. Johnny Tsunami (1999)
The Twitter Synopsis: Johnny moves from surfboard to a snowboard. In a town where social class is divided between skiers and snowboarders shit gets real.
Not only does this movie about the coolest dude (Johnny) it also has Zenon: Girl of the 21st Century and The Famous Jett Jackson. I had the biggest crush on Johnny. I think it was his cool Hawaiian slang and lopsided smile. This movie always made me real sad I never learned to take advantage of the Utah snow.
4. Halloweentown (1998)
The Twitter Synopsis: Marnie is a witch but her mom doesn't want her to know. Luckily her grandma is Debbie Reynolds. Generations collide.
I lost hours of my childhood to pretending I lived in Halloweentown. My cousins and I would carry around pillows and pretend they were the book of spells. Marnie was basically my idol and I wanted to be friends with the skeleton cab driver, the werewolf hairdresser, and the sweating ghost more than anything. I also wanted Halloweentown to be real almost as much as I wanted Hogwarts to be real. Almost.
3. High School Musical (2006)
The Twitter Synopsis: The start of something new. Get'cha head in the game. Stick to the status quo. Bop to the top. Breaking free. We're all in this together.
I don't even know where to begin with High School Musical. Well first of all I spent weeks learning the dance at the end of this movie and it is still one of my proudest accomplishments. Yes, I still know it. Also, when I was in high school it was my dream to walk in to the cafeteria and have everyone erupt in to song and dance. Then my best friends made it happen and it was my favorite day. Finally, when they were filming the second movie I used to drive around my neighborhood screaming Zac Efron's name whenever I saw the production trucks. I used to have a mad crush on Zac Efron. Then Hairspray happened.
2. Under Wraps (1997)
The Twitter Synopsis: Harold the Mummy comes back from the dead and it's up to the three coolest kids in town to help reunite him with his love before it is too late.
I recently watched this movie and it still made me laugh all the way through. This movie is way too underrated in my opinion. Every single character is hilarious. I especially love Harold, Marshall, and Marshall's mom. Also, this scene kills me dead (it starts at the five minute mark but the pay off is at the eight minute mark!).
1. Brink! (1998)
The Twitter Synposis: Team Soul-Skaters > Team X-Bladz. Skating for fun > skating for money.
Just try to watch this movie and resist the urge to immediately go skating through your neighborhood. My friends and I used to skate all over the place like we were on Team Soul-Skaters. I wanted to be Gabriella so badly.
–
Honorable mentions: Miracle in Lane Two, The Phantom of the Megaplex, Up Up and Away, The Color of Friendship, and Alley Cats Strike.
Oh, and all of the above movies are available on YouTube! So ya know, gotta go watch Brink! now byyyyyye.
–
previous lists:
podcasts for your listening pleasure
some documentaries for you to watch